Building Information Modelling BIM is not a goal itself. BIM is a Technonogy,  Methodology and Instrument for the Effective Cooperation between all planning partners.
Introduction to BIM coincides with the changes in the investment processes: from traditional Design-Bid-Build DBB – project design, selection of contractor and execution, to Integrated Project Delivery IPD (Integrated Investment Process / Project Execution). IPD assumes common actions of all participants in the investment process: investor, designer, contractor and others – from the very beginning.
One of the most fundamental aspects of IPD process is that it assumes an increasing of the workflow during planning and designing phases.
Accelerated and simplified methodology for those phases can be achieved with the Software of various functionality (Drawing, Modelling, Analysis, Visualization) which support 3D modeling.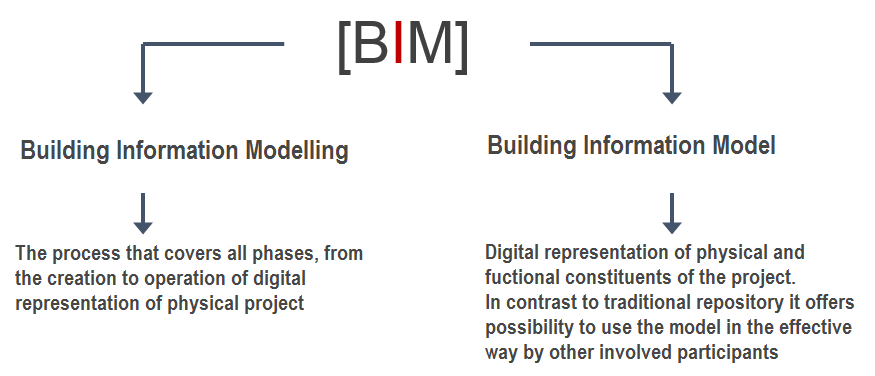 Initial requirement is that the Software must have interoperability, their interfaces work in a full compliance with other products or systems at every stage of the investment process.
International Alliance for Interoperability IAI, currently buildingSMART, has been developed the interface, was named IFC format (Industry Foundation Classes).
IFC is a neutral and open specification that is not controll by a single software producing company. 
IFC format is a basic file format based on a data model to facilitate interoperability in the building industry. This format streamlines to communication, reduces the time to transfer the large amount of data on an object, and increases productivity and quality throughout the building life cycle. The main purpose is to minimize the likelihood of data loss when transmitting modeled objects between various software.
It has already defined as a format that supports an international standard for the import and export of building objects and their properties, as well as for building information modeling (BIM).
The information that is traditionally contained in the IFC model:
Building hierarchy (phases, stages)
Element type (walls, slabs, columns, beams, stairs, etc.)
Geometry (dimensions, element coordinates, volumes)
Dependence between individual elements
Standard and non-standard properties assigned to items (materials, colors, cross-sections, fire protection characteristics, weights, etc.)